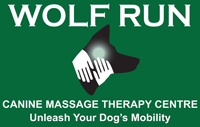 I began the Canine Massage Diploma over two years ago and I am now having a wonderful time building my business as a canine massage therapist in Wolverhampton.

Like all things worth doing, I found the course really challenging. At times it pushed me to my limits intellectually and emotionally but it was absolutely one of the best things I have ever done.
Natalie will push you to be the best therapist that you can be and will be behind you every step of the way if you`re prepared to put the work in. You will be taught in a way that you have never been taught before and supported throughout.
It`s not every course you do that will change your life, but doing the diploma has altered mine in all sorts of wonderful ways.
Sam Axtell
Wolf Run Canine Massage Therapy Centre, Wolverhampton
www.wolfrun.org.uk