This follow on workshop to A Beginners Guide To Canine Massage and Canine Massage For Agility & Sport is the ideal way to develop the skills you have already learned and add a some exciting new techniques to your Massage-At-Home-ToolBox.
Intermediate Massage Techniques
Next Date:19th November 2023 Cancelled
The Woolhope Village Hall, Woolhope, Herefordshire HR1 4QS
We only run this once a year due to teaching and time constraints to BOOK NOW to avoid disappointment!
You Will Be:
– Revising The 5 Techniques You Learned On The First Workshop
– Re-accquainting Your self With Bony Landmarks & Muscle Groups
– Learning Specific Canine Massage Techniques To Help Your Dogs Back & Spine
– Working Deeper Into Your Dogs Muscular System – learn more about pressure, rhythm and pace
– Learning More About The 3 Common types of Muscular Issues And Injury That Go Undetected How To Spot Them
– Practising New Techniques To Add To Your Routine & Leave the day with 17 techniques under your belt
– Developing on from Passive Movement – You will be learning new passive movement to add to your routine
– Discovering Ways How To Make Day To Day Life Easier On Your Dog To Increase Their Longevity
– Learning How And When To Use Ice and Heat Therapeutically To Help Pain, Inflammation and Arthritis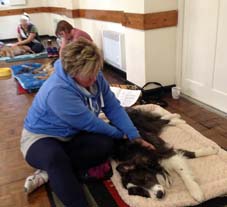 If you and your dog enjoyed and benefited from the first workshop then this Intermediate Canine Massage workshop will really help you to develop your own skills so you can become your dogs very own therapist at home!
Please note this workshop is for home use only with your own dog, it is not a course which qualifies you to practice with other peoples dogs. If you are interested in this then please see our Clinical Canine Massage Practitioner Programme.
Details:
Next Date: Sunday 19th November 2023 cancelled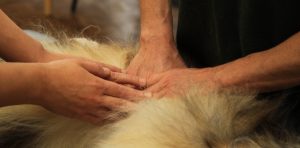 Location: The Woolhope Village Hall, Woolhope, Herefordshire, HR1 4QS
Time: 9.30am – 4.30pm
Price: £138 (including Vat) includes workbook and certificate
Limited to 12 places/workshop
NB: There must be a minimum of 6 people in order for this workshop to run.  You must provide your own canine companion when attending any workshop!
SHOULD YOU NEED TO TRANSFER OR CANCEL YOUR WORKSHOP BOOKING, PLEASE NOTE THAT ADMIN FEES WILL BE APPLIED
See our Terms and Conditions for details
COURSE NAME
Intermediate Massage Techniques
DURATION
1 Day Workshop
LOCATION
HEREFORDSHIRE
COURSE COST
£138 (inc. VAT)
ENTRY REQUIREMENTS
Essential to have attended a Beginners or Agility Workshop