Natalie Lenton's name is synonymous with canine massage therapy.  Through her creation and development of the Canine Massage Therapy Centre and its LANTRA-accredited Clinical Canine Massage Practitioner Programme, she is a leading innovator and contributor to the explosion in popularity of this discipline.  Thanks to her Programme, which incorporates the unique and trademarked synergy of massage techniques, the 'Lenton Method® , hundreds of her students are now practicing clinical canine massage across the globe.  Many more, from veterinary professionals to hands-on pet lovers – and their dogs –  have benefited from Natalie's best-selling DVD 'Canine Massage in 3 Easy Steps.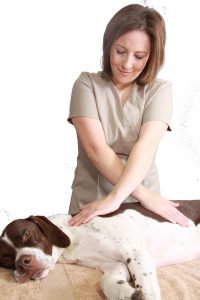 In 2011 Natalie founded The Canine Massage Guild, which today boasts the largest number of professional, competent, fully trained working clinical canine massage therapists in the world.  To reflect her commitment to education and skills development in this field, the Guild was established not just as an association but as a community of like-minded people whose goal is to help and support each other in the animal care industry.
In service to this commitment, Natalie has designed a unique Workshop Instructor Programme that offers experienced Guild therapists a progression path to become professional trainers licensed to deliver her exclusive workshops: Beginners Guide to Canine Massage and Pre- & Post-event Massage for the Sporting Dog.
In addition, qualified therapists also benefit from Natalie's Continuing Professional Development Programme, which includes advanced clinical massage training and a further 15 courses that specifically address their ongoing development and skill, as well as their commitment to the dogs, owners, and vets with whom they work.
Thanks to Natalie's dedication, drive, and determination, her contribution to education in the animal care industries has transformed the lives of her students who realise their dreams of working with dogs and who have, in turn, contributed to the wellbeing of countless dogs worldwide.
The Lenton Method is currently undergoing clinical trials with Winchester University and Sparsholt University Centre and is the first large scale canine massage study ever undertaken.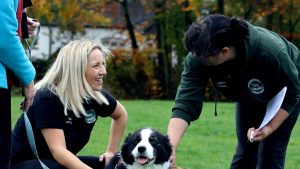 About the Canine Massage Guild
Clinical Canine Massage therapy as practised by members of the Canine Massage Guild typically sees results in 1-3 sessions based on an ethical client approach model and the unique integrative blend of 4 disciplines of massage alongside the unique Lenton Method®.
For chronic pain management, soft tissue injury rehabilitation, and orthopaedic and neurological condition support, clinical canine massage blends myofascial release (MFR), both the direct and indirect approach, sports massage, deep tissue massage and Swedish massage.  It also incorporates the trademarked MFR protocols from the Lenton Method®, a three-pronged approach that incorporates advanced palpation skills, BodyMapping (an actual map of the body that is used to determ
ine common areas of muscular injury and issue as well as myofascial pain developed over the course of 10 years) and 'The 7 Protocols', a unique set of myofascial release techniques that produce long lasting results.
Clinical therapists are also trained in the assessment of orthopaedic and neurological conditions essential for patient referral back to their consenting vet to ensure paramount client care. Written reports are also provided to the consenting vet and sensible home care plans are provided to the owner.
The initial Clinical Canine Massage Practitioner Programme is delivered by the Canine Massage Therapy Centre Ltd.  over a period of 2 years and it is externally accredited by LANTRA. Upon completion and pass of written and practical examinations therapists are able to join the Canine Massage Guild and commit to Continuing Professional Development  (25 hour/year minimum) provided exclusively by CMTC for Guild members including manual lymphatic drainage, facilitated stretching, skill reviews, neuromuscular refacilitation, ventral MFR and other clinically appropriate bodywork courses.
Animal welfare, consumer protection, clarity of law and professional standards are the Guild's core values alongside providing the best service possible to dogs, their owners and vets. The online therapist register includes members from the UK, Ireland, and Spain.