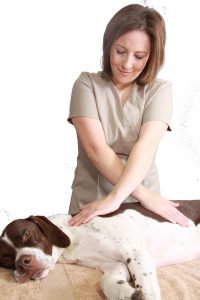 Natalie Lentons' name has become synonymous with the explosion in the popularity of canine massage therapy. 
She is Director of the Canine Massage Therapy Centre, Chairperson of the Canine Massage Guild, creator of the trademarked 'Lenton Method', developer of the Clinical Canine Massage Practitioner programme accredited by LANTRA, and she also delivers a range of 1 day workshops for the general public and around 12 other courses at CPD level for professional therapists. Natalie not only teaches therapists but also trainers with a workshop instructor programme and is author of the internationally best-selling DVD 'Canine massage in 3 easy steps'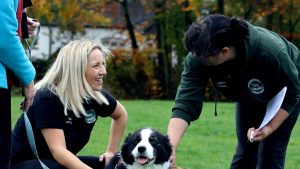 About the Canine Massage Guild
Clinical Canine Massage therapy as practised by members of the Canine Massage Guild typically sees results in 1-3 sessions based on an ethical client approach model and the unique integrative blend of 4 disciplines of massage alongside the unique Lenton Method®.
For chronic pain management, soft tissue injury rehabilitation, and orthopaedic and neurological condition support, clinical canine massage blends myofascial release (MFR), both the direct and indirect approach, sports massage, deep tissue massage and Swedish massage.  It also incorporates the trademarked MFR protocols from the Lenton Method®, a three-pronged approach that incorporates advanced palpation skills, BodyMapping (an actual map of the body that is used to determ
ine common areas of muscular injury and issue as well as myofascial pain developed over the course of 10 years) and 'The 7 Protocols', a unique set of myofascial release techniques that produce long lasting results.
Clinical therapists are also trained in the assessment of orthopaedic and neurological conditions essential for patient referral back to their consenting vet to ensure paramount client care. Written reports are also provided to the consenting vet and sensible home care plans are provided to the owner.
The initial Clinical Canine Massage Practitioner Programme is delivered by the Canine Massage Therapy Centre Ltd.  over a period of 2 years and it is externally accredited by LANTRA. Upon completion and pass of written and practical examinations therapists are able to join the Canine Massage Guild and commit to Continuing Professional Development  (25 hour/year minimum) provided exclusively by CMTC for Guild members including manual lymphatic drainage, facilitated stretching, skill reviews, neuromuscular refacilitation, ventral MFR and other clinically appropriate bodywork courses.
Animal welfare, consumer protection, clarity of law and professional standards are the Guild's core values alongside providing the best service possible to dogs, their owners and vets. The online therapist register includes members from the UK, Ireland, and Spain.