Clinical Canine Massage is very different to what you may perceive massage to be.
Would you like to run your own Clinical Canine Massage Practice? Externally accredited by LANTRA this is the course that trains members of the Canine Massage Guild and other therapists who run their own business.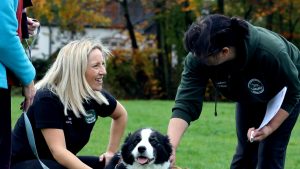 We've been training people since 2010 to become Clinical Canine Massage Therapists.  The course focuses on correct training across 4 disciplines of massage, practical and theoretical examinations, a fine working knowledge of the dogs muscular and skeletal systems as well as an awareness and an ability to assess for common orthopaedic issues, neurological implications and soft tissue injury. The Clinical Canine Massage Therapist will have a minimum of 2 Years training and specialise in the rehabilitation of muscular injury and Myofascial pain, as well as providing pain management for the support of orthopaedic issues such as arthritis and hip dysplasia in dogs. Using the Lenton Method® of Direct MFR, 4 Disciplines of Massage and over 50 techniques the practitioner has a unique skill set to aid in a dogs return to mobility and vitality using a scientific approach.

The Canine Massage Therapy Centre & the Canine Massage Guild comply with the Veterinary Act 1966, Exemptions Order 2015 and National Occupational Standards LANAnC61 and LANAnC62.
Read about how the Lenton Method is being studied by Winchester University and Sparsholt University Centre in the worlds first clinical trials on canine massage therapy! For more information, please read  Vet Times Article  and for updates https://www.k9-massageguild.co.uk/clinical-trials/
Click here to go to our Facebook page and see lots of photos of our students and their progress throughout the year:
https://www.facebook.com/CanineMassageTherapyCentre/
What Is Clinical Canine Massage Therapy?
It is a Physical Therapy which integrates Canine Anatomy with a set of complex Massage Techniques to resolve muscular conditions often seen as lameness and to support Orthopaedic Issues like Arthritis and Hip Dysplasia. A therapist would also work with Sporting Dogs to help rehabilitate injury and enhance performance. The desired outcome is a dog that has improved mobility, resolution or reduction of lameness, stiffness and fatigue. A dog that is freer, supple and mobile, more able to retain their independence, have reduced pain levels and gain improved Range of Movement.
It also produces phenomenal results in dogs with Orthopaedic Conditions such as Arthritis or Hip Dysplasia to address what is often debilitating Protective Muscle Splinting. Clinical Canine Massage Therapy is ideal for dogs with NSAID intolerance, Agility Athletes, Senior Dogs , those slowing down or having intermittent lameness issues and post surgical care and rehabilitation.

What Makes This Course So Unique?
The Clinical Canine Massage Practitioner Programme is a unique and innovative course which trains the student in Integrated Massage for dogs, and is taught by Natalie Lenton, Director of the Canine Massage Therapy Centre and Externally Accredited by LANTRA. The scientific nature of the course integrates Advanced Live Canine Anatomy, 11 Core Home Study Modules on Anatomy & Physiology, Specific Palpation Routines and over 50 Techniques spanning the following 4 Disciplines of Massage Therapy:
Myofascial Release – The Direct and Indirect Approach to address areas of Myofascial Pain and Trigger Points, Use of the Thixotrophic Response and Direct Engagement
Remedial Sports Massage – Injury Identification, Muscle Isolation, the Use of Origins/Insertions/Actions, Injury Rehabilitation, Scar Tissue Remodelling from the Strain, Advanced Soft Tissue Palpation Skills
Deep Tissue Massage – Specific access points to work on the deeper layers of musculature and their associated restrictions, especially useful for chronic pain with a slower, deeper pressure over concentrated areas of muscular and Myofascial issue
Swedish Massage – The classic Series of 5 Groups of Techniques designed to soften tissue, relax the body and enhance the circulation of blood via venous return
The 7 Protocols – Importantly what really sets this course apart are the 7 Protocols; a unique set of techniques developed by Natalie Lenton over the last 10 years spent working with dogs. The 7 Protocols address deep, embedded patterns of Myofascial Restrictions which are often the cause of reduced or impaired mobility and pain. The student is taught the 7 Protocols throughout the Practical Days and is coached to develop an understanding of the theory of the Protocols and their skilled use.
Body Mapping – Developed by Natalie Lenton the student will leave with a comprehensive Body Map which determines clear anatomical locations of muscular injury and issue such as Strains, Trigger Points and Myofascial Pain. The BodyMap took Natalie years to develop and Students benefit by being able to enter the field at an incredibly high level.
Advanced Palpation Routine – Learn how to guide your hands over the body to detect Muscular Injury And Myofascial Dysfunction as you learn a structured way of reading the body with the Art of Informed Touch. Reading Skeletal Landmarks, Veins, Arteries, Fascia both Deep and Superficial and Muscle with the fingertips is an Advanced Skill that requires months and months or practice to become competent. The Practitioner Programme focuses heavily on developing this skill with Palpation Practice and Palpation Drills regularly in place as well as Tutor Assessment and one on one help and guidance.
The Lenton Method® is the combination of the 7 Protocols, Bodymapping and a set Full Body Palpation Routine. When used adjunct to one another the Lenton Method® makes positive and consistent improvements to the dogs mobility, comfort, ability and longevity and reliably identifies areas of muscular and fascial issues in the dog which may cause or contribute to mobility issues.
Guided Study Days Off Site – So you can experience what its like to work in industry as a Canine Massage Therapist we take you off site and guide you through information and technique packed days to enhance your handling skills, improve your massage skills, and meet other canine professionals.
Ethical & Professional – Our core belief and passion is the wellbeing and good health of our canine patients. Students learn the importance of Best Practice, working ethically, with veterinary consent and respecting the Veterinary Act 1966 & Exemptions Order 2015. Students are encouraged to work empathetically with dogs in pain and study the management of soft tissue injury and orthopaedic conditions. Students are eligible to join a professional body for Canine Massage Therapists upon successful completion of the course
Fascinating Home Study Modules – 11 Home Study Modules give the student in depth knowledge of the dogs Anatomy and Physiology as well as Orthopaedic, Muscular and Neurological Pathologies. Gait Analysis, Massage Theory and a Business Awareness Module to help begin mentoring the student into setting up their own successful Canine Massage Practice.
Canine Massage Guild – Upon a successful pass the new therapist is eligible to join the Canine Massage Guild; a UK and European Wide Network of Professional, Insured Canine Massage Therapists who have all completed the 2 Year Practitioner Programme or Diploma Equivalent. The Guild offers a referral network, Continuing Professional Development, further training and progression, partnering to do shows, client referrals, advice and updates on changes in industry legislation.
How Is the Course Structured, Accredited and Assessed?
Part Time over 2 Years. 11 Core Home Study Modules on Canine Anatomy & Physiology, 10 Case Study Externship, 12 Intensive Practical Days including off site industry experience, Business Start Up Mentoring, Practical Assessment, Written Exam. Externally Accredited by LANTRA, Delivered by Canine Massage Therapy Centre, totalling 800 Hours of Practical & Theoretical Study
This 2 year Part Time, LANTRA Awards Accredited Course delivered by the Canine Massage Therapy Centre is exhilarating and life changing for its Students. For many this will be the career change they have dreamed of; one working with dogs to help rehabilitate them from injury, provide pain management for orthopaedic conditions and senior dogs with a career that is so very rewarding in this fascinating, ever growing field.
The outcome of the Clinical Canine Massage Practitioner Programme is for the successful student to establish their own Private Practice which provides a service to Veterinarians, Dogs and Owners with this unique Physical Therapy which aims to:
Restore Function
Rehabilitate Muscular Injury
Resolve or Manage Common Lameness Issues
Provide Chronic Pain Management for Arthritis
Senior Dogs Mobility
Orthopaedic Condition pain management
Sports Performance and Conditioning for Agility & Sporting Dogs
Post Surgical Recovery
Address Painful Protective Muscle Splinting associated with Injury, Age and Orthopaedic Issues
The Study
11 Core Anatomy & Physiology Home Study Modules – These core modules prepare the student for the anatomical grounding they will need before they set foot in the classroom. The fascinating nature of the Canines Anatomy & Physiology is a complex and detailed one. Many of these modules will come in at around 5,000 words each. The Student must complete up to and including Module 9 to be able to attend Practical's. You are given a Reading List for each module and are supplied with a Work Pack to introduce you to each subject which helps focus your studies.
12 Practical Days – Highly Intensive and very physically demanding the Practical sessions teach you the Art of Palpation, the 4 Disciplines of Massage, 50 Techniques, PROM, BodyMapping, the Lenton Method, lectures on Neurology, Orthopaedics, the Pathology of Soft Tissue Injury alongside visiting clients bringing in their dogs for massages performed by the students, off site guided study days and plenty of hands on Live Canine Anatomy and How to Market Your Business. You will have up to 4 Tutors per group making the ratio of 2.5 students to 1 Tutor an incredibly high ratio so you get the hands on help and support you need.
The Externship – 10 Case Studies = After Session 6 the Student may begin Case Studies. This provides the transition from Student through to Practitioner. The Student must find their own appropriate case studies and is also given help, mentoring and support via group and one to one discussions with a tutor on their progress and reflective practice.
Assessment Methods include:
Continuing Assessment
1 Practical Exam
1 Written Exam
1 Anatomy and Physiology Portfolio
1 Externship Portfolio
Emphasis is on Client Self Care – The student is taught common living and environmental stresses and to go on to grow their knowledge and identify their own during the Client Consult which may be impacting on or causing issues in the dogs health and mobility. The student will be taught how to give At Home Care Plans or Maintenance Sheets to help place the responsibility of care on and empower the owner.
A Supportive, Fun Learning Environment – This is no roll on roll off course. You are allocated a group and you will work within the group for the duration of your practicals. We create a positive, social atmosphere within our community of Students, Tutors, Therapist and Visiting Owners, and Students are encouraged to bring in their own valuable experiences too. Your tutors are all experienced Canine Massage Therapists and also Human Bodyworkers. The Tutors are Natalie Lenton, Cath Nicoll from DogsBody Canine Massage in Gloucester,  Hannah Walker from Phoenix Canine massage Therapy in the West Midlands and Samantha Courtnell from Thinking and Feeling Canine Massage in Warwickshire.
Mentoring – Our Team of Tutors help guide you through not only the written study, massage techniques and canine handling but also coach you in delivering a thorough Client Consultation along with other methods such as Gait & Postural Analysis. We want you to the best therapist out there and this means not only developing competence and mastery with your practical skills but also mentoring you during the initial set up of your own business.
Who Is The Course For?
Adults wanting a career change working with dogs
Veterinary Nurses
Animal and Human Physiotherapists
McTimoney Animal Manipulators
Groomers
Human Massage Therapists thinking of combining their practice
People wanting to work with dogs
Please do be aware that Canine Massage is a very physical job which can mean spending prolonged periods on the floor, standing at a table or handling dogs.
If you would like to discuss the occupational hazards or elements of physical stress that are associated with being a Clinical Canine Massage Therapist before you start the course please do not hesitate to contact us.
We strongly advise all prospective applicants to come along to one of our 1 day workshops to help assess for yourself whether this is the right course for you.
We teach anatomy from the ground up however, it is very beneficial to have some grounding in the subject before you commence the course. Although this is not mandatory we find that a lot of students want to do something in between applying to enrollment to prepare for the course.
It's not mandatory but some people ask if there is a course that may help them prepare and we recommend this short online dog anatomy course with the Open College to those applicants who have no experience of anatomy and physiology, to help prepare them for the course. If you state that you are applying to study with Canine Massage Therapy Centre then you will be eligible for a discount.
How To Apply for The Course
We advise before applying that you either attend a 1 day workshop with us or plan to in the future. We also recommend having a go at home with the DVD – Canine Massage in 3 Easy Steps)
1. Download / Read the FULL PROSPECTUS
2. Complete the  SELF ASSESSMENT and email back to admin@k9-massage.co.uk.
3. This document is filed ready for Phone Interviews in Autumn
4. You will be contacted by Email and sent a Pre Interview Qualifier; a small amount of written work that asks you to further research about massage and its benefits. You submit this and an telephone interview is arranged.
5. Your friendly phone interview will take place as arranged by email.
6. Acceptance on the course will be followed by full enrolment forms being sent by email.
7. Send us your enrolment forms back by post.
8. Our next intake will begin the Home Study Modules in Jan 2022 and your practical session dates will commence April 2023.  NB Applications for commencement Jan 2021 are now closed and all applications received from now will be considered for a 2022 start date.
9. The level of written work is 1st/2nd year Degree Level. You should like to study, be interested in Anatomy and like to do assignments.
10. This is not a `roll on roll off` course. It is 2 years on intense studying and training in Anatomy & Physiology as well as many hours of practical training both in and out of the classroom. It is not a full time course but requires you to do research and written modules. Our students must have completed up to and including Module 9 before attending any practical sessions.
11. Please Note: The training is physically intense and you will spend hours on the floor and stood at a table with the dogs on practical weekends. We ask you politely to be as honest with yourself as possible about whether you are able to do this as we feel it is our ethical responsibility to you to make you aware of this.
12. It is highly advisable to attend a canine massage workshop with us before enrolling on the course.

Cost & Location
£5595 plus VAT (2022/3 intake, subject to change)
Payment Options:
1 Off Payment eligible for 10% Discount
Or with 12 Monthly Instalments (UK residents only)
Student will also be required to buy their own books from the Reading List, a Massage Couch and a Student T Shirt.
Location:
Bromsgrove
Worcestershire
B61 9LA
Practical Days begin at 9am or 8.30am and finish approximately 5.30pm
Practical dates released 1 year prior to practicals

COURSE NAME:
Clinical Canine Massage Practitioner Programme
*** Applications now accepted for 2022 start ***
DURATION
2 Years (commencing January)
LOCATION
Home study & practical courses in Worcestershire
COURSE COST
£5595 plus VAT (intake 2022/3 may be subject to change)
ENTRY REQUIREMENTS
See course details for criteria
Download your SELF ASSESSMENT
View the  FULL PROSPECTUS