Read our ground breaking clinical trials research on canine massage therapy in the Vet Record published by British Veterinary Association here: https://bvajournals.onlinelibrary.wiley.com/doi/10.1002/vetr.586
The Clinical Canine Massage Practitioner Programme provides you with not only the most up to date and comprehensive training in canine massage therapy but also considers your journey after you have completed the course:
Exclusive access to the Canine Massage Guild*, with a community of like-minded therapists working together at shows and other events to promote this life changing therapy for dogs that we are so passionate about. You receive assistance with the provision of marketing materials, including the exclusive Integrated Veterinary Care Initiative (for the IVCI project please see the guild website here https://www.k9-massageguild.co.uk/veterinary-information-zone/ ), how to deliver talks and presentations on canine massage therapy as well as a private support forum.  Canine Massage Guild membership is only available to students who have successfully passed the Clinical Canine Massage Practitioner Programme with us.
Access to exclusive Continuing Professional Development courses with the Canine Massage Therapy Centre – continue your journey and learning as you progress as a therapist by building and developing your skills with our advanced courses in advanced myofascial release, manual lymphatic drainage, neuromuscular facilitation, and much much more…
Canine Massage Therapy Centre and the Canine Massage Guild are proud to be working with Winchester University in the ground breaking, world first, large scale study into canine massage therapy. The gold standard of double blind trials are also planned for the future, become a part of the legacy (https://bvajournals.onlinelibrary.wiley.com/doi/10.1002/vetr.586)
Master a total of over 60 canine massage techniques that span the disciplines of Swedish, Sports, Myofascial Release, Deep Tissue AND the Lenton Method
We also offer 'The WIP', or the Workshop Instructor Programme (WIP) for Canine Massage Guild Members who want to pass on their knowledge, experience and passion to owners and their dogs by delivering our 2 flagship workshops; Beginners Guide to Canine Massage and Pre & Post Event K9 Massage. The WIP License provides a clear route for career progression and skills development**
The core of CMTC is our team of Tutors and Main Office. We are a small company with a big heart who are dedicated to seeing our students succeed because when they do, more dogs are helped with this therapy.  You can read more about our Tutors here, unlike other providers, all of our Tutors have not only completed the course themselves, they also run their own successful practices and are therefore well qualified to guide you through the process!
If you're ready to change your life and the lives of a lot of dogs for the better, if you are prepared to be dedicated and committed to completing the written and practical work, then we are ready to train you.
Your journey can start here, today.
Next step…..read the FULL PROSPECTUS
Next step…. Check out the Canine Massage Guild, we are proud to have trained this incredible group of people
Next step….Read the testimonials on the Canine Massage Guild website and you'll see that there are hundreds of case studies and owner quotes. What we teach here at CMTC works and you can see for yourself through the number of practising therapists who get results, its repeatable. If you like what you read and are impressed with the consistent results…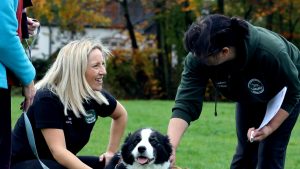 Experience canine massage therapy either with a 1 day workshop through our team of Workshop Instructors, stream our DVD or why not see how this therapy helps your own dog by taking them for a treatment from a canine massage guild member. See the official register here https://www.k9-massageguild.co.uk/therapistregister/
Next step…fill in your SELF ASSESSMENT and press send! Congratulations you're one step closer to recognising your dream of working with dogs or adding this skill to your pre-existing animal care work.
*based on a successful pass.
** requires 4 consecutive years of guild membership and  proof of clinical practice
The Canine Massage Therapy Centre & the Canine Massage Guild comply with the Veterinary Act 1966, Exemptions Order 2015 and National Occupational Standards LANAnC61 and LANAnC62. The Course is Accredited through LANTRA
Click here to go to our Facebook page and see lots of photos of our students and their progress throughout the year
COURSE NAME:
Clinical Canine Massage Practitioner Programme
*** Applications now accepted for 2024 start ***
DURATION
2 Years (commencing January)
LOCATION
Home study & practical sessions in Worcestershire (UK)
COURSE COST
£5595 plus VAT (2023) 10% discount for payment in full, instalment option available
ENTRY REQUIREMENTS
A desire to study and ultimately work with dogs
Download your SELF ASSESSMENT
View the  FULL PROSPECTUS