Your lead tutor is Natalie Lenton. She is Director of the Canine Massage Therapy Centre, Founder of the Canine Massage Guild, author of the DVD 'Canine Massage in 3 Easy Steps' and made history with Winchester University and the Canine
Massage Guild by pioneering the world's first clinical trials in canine massage therapy with the results available in the 'Vet Record' published by the British Veterinary Journal.
Natalie has played a major role in the explosion in popularity of canine massage therapy with her imitable teaching style both as an educator, motivator and coach and by bringing a completely new insight into bodywork for dogs with her method, the Lenton Method™ which has been proven to make positive change to a dog's quality of life in 1-3 sessions.
Natalie's approach means that as a student she will take you on a journey to not just learn more about dogs and canine massage, but importantly to learn more about yourself and what motivates and inspires you so you can achieve your dreams of working in this exciting and rewarding field with the dogs that change our lives.  She has dedicated her life to helping individuals succeed with this therapy so in turn they can help improve the lives of dogs across the world. You can find out more about Natalie here  or book a workshop in person with Natalie here
Catherine Ryan has been a Clinical Canine Massage Therapist since January 2012 having trained through The Canine Massage Therapy Centre.  As well as running her own successful clinic in Gloucestershire, she also runs a clinic at a Marlborough vet practice once a month, treating dogs referred by the inhouse vets.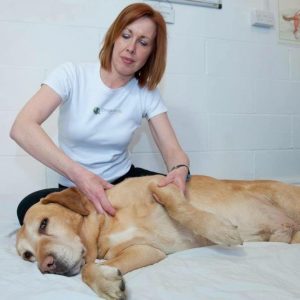 Catherine has previous experience of running 1 day workshops for members of the public to attend with their dogs, enabling them to learn about canine massage and enabling them to learn how to massage their own dogs.
Prior to becoming a Clinical Canine Massage Therapist, Catherine was qualified as a human Sports Massage Therapist.
She has been an instructor on the Clinical Canine Massage Practitioner Programme since 2015 and offers a wealth of experience behind her to aid and develop our new students through their journey.
Hannah Walker completed the Canine Massage Practitioner Programme in January 2018 and has been a member of the instructors team since April 2018.
A member of the Canine Massage Guild, she owns and runs Phoenix Canine Clinical Massage Therapy based in the West Midlands.
She has three dogs of her own and competes in Agility and Showing.
Hannah comes from a nursing background and is passionate about helping others to pursue their dreams of a career change.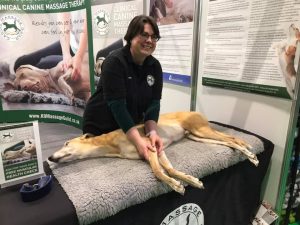 Sam Courtnell has been a Canine Massage Therapist since February 2019 and joined the team as an instructor in 2020. She owns Thinking and Feeling Clinical Canine Massage based in Warwickshire and Coventry.
Sam brings experience from working in training and behavioural change in a corporate environment and applies this in the classroom to help new students to progress through the course. She has also been involved in animal training and learning about behaviour science and enjoys using this knowledge with her own animals, and with people.
She has two greyhounds and a Lhasa Apso who love to join the team on practical teaching days, and a horse (who doesn't join in!).