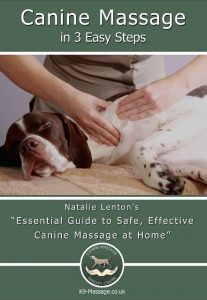 Canine Massage in 3 Easy Steps, with Natalie Lenton
Get Massaging Your Own Dog At Home Today!
Purchase the DVD From our Shop here
Alternatively stream the video anywhere, anytime, for as long as you want; by clicking on the trailer below or  by following this link to Vimeo to complete your purchase
Summary
The only Canine Massage Video on the market to give you a full body Canine Massage Routine that you follow on screen with your dog! Get it right first time, everytime!
Within 1 hour you will be able to give your dog a thorough full body massage at home so they can reap the benefits of massage that humans have known about for years.  The routine is suitable for all ages and breeds; from ageing and senior dogs, to those coping with Orthopaedic issues like Arthritis or Hip Dysplasia and is also beneficial for younger, active or agility/sporting dogs too!
Developed specifically for the owner at home, by Natalie Lenton, Professional Clinical Canine Massage Therapist,  Director of Canine Massage Therapy Centre and founder of the Canine Massage Guild. `Canine Massage in 3 Easy Steps` the video will give you the skills and techniques you need to enable you to give your dog a full and comprehensive massage treatment at home right away.
The thoughtful routine was personally choreographed by Natalie to ensure that every dog benefits every time.
You will learn how to massage your dog confidently and competently by following Natalie's unique method of '3 Easy Steps':
Step 1 – Anatomy Dot to Dot
With your dog by your side you're going to learn more about what's underneath your dogs skin in the fun and easy Anatomy Dot To Dot Step. Find out what a bony landmark is and how to locate one before progressing to join the dots and locate your dogs main muscle groups as well as finding out what they do.  A great introduction to helping you understand more about your dogs Muscular and Skeletal Anatomy in a fun way!
Step 2 – Massage Tutorial
Natalie tutors you in 6 Massage Techniques to ensure you are confident in how to apply them correctly, explains the common mistakes people often make and how you can avoid making them. Did you know when massaging a dog you actually go against the coat on certain parts of the body? Natalie explains why and how you can work with your dogs physiology rather than against it to enable you to give them a more beneficial massage as you practice and perfect the 6 massage techniques with your dog.
Step 3 – Massage Routine
Its time to put everything you have learned to together and follow the on screen routine to be able to give your dog a thorough and complete full body massage at home. So whether you are trying to help relieve your dogs sore, aching muscles, reduce stiffness in the back, neck or legs, or ensure they remain active for as long as possible this professionally choreographed routine will deliver the right balance of techniques in a sequence specifically designed to help your dogs comfort and mobility levels.
Bonus Section – Harmful Habits
Ever wandered what may be causing or aggravating certain mobility issues with your dog time and time again? Why is your dog worse after some types of exercise?  What's at the root of them being caused injury and pain? What dangers lurk in your home that you can do something about to help your dogs mobility? As Natalie always says its not just about the massage, its about learning what Activities of Daily Living or ADLS your dog does that can be causing or contributing to their mobility and pain levels. You might just be surprised…
Combine the advice in the Bonus Section with the routine you learn in Step 3 to really make a difference to your dogs longevity and comfort levels!
Canine Massage in 3 Easy Steps – Teaching you, so you can help them…Buy Your Copy Today!
Running Time: Approx 1 hour 10 minutes
DVD Format: PAL (will play on Multiregional DVD players and Computers too) available from our shop 
BUY HERE
Stream this feature in full on your PC, Phone or Tablet; anytime anywhere through Vimeo. Just click on the link:
You will have to join Vimeo and pay with card or PayPal, you will then have access to stream Canine Massage in '3 Easy Steps' for as long as you want, from anywhere on any platform.
Please note this guide, as clearly stated on the cover and in the disclaimer, is for home use only with your own dog. It does not teach you to treat other peoples dogs as this is illegal and may only be done by qualified Practitioners who gain Veterinary Consent and comply with the UK Veterinary Act 1966 and the Exemptions order 1962. Enjoy massaging your own dog at home.
NB: It is not advisable to massage where your dog has been diagnosed with Epilepsy, Heart, Liver or Kidney conditions
If in any doubt, check with your vet before massage begins.