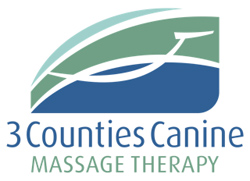 A couple of years ago, Nat treated my elderly dog and the results were so impressive, I went on her 1 day workshop and was hooked! I completed my diploma in Jan 2012 and have set up my own business `3 Counties Canine Massage.`

Her teaching style is open and positive and she makes it her business to make sure that everyone fully understands every step of the way. She shared techniques with her students that are unique to her and worked individually with us all to ensure we were competent at performing them. Nat invited us to help at workshops and put in extra practical experience which I found invaluable for building up my confidence.
When I started the diploma course, I had very little self confidence and feel I have progressed personally as well as having a new career. Nat works on your strengths but is not `soft` on you – it`s hard work, and if you put your heart into it, Nat will help you every step of the way.
Nat set up the Canine Massage Guild to provide continuous professional development after qualifying, but that`s not all she does for the guild. She sorted out links to help set up your own business and advises you without ever stopping you from having your own independence. She has encouraged all the therapists to work as a network so that we can support each other and all work in the client`s best interest so that they are not having to travel miles to see a therapist.
I see this years Crufts as my launchpad – Nat invited all the new therapists to have 4 days on her stand and trusted us all to palpate dogs and talk to the public to encourage us to develop our skills. It was an amazing opportunity and she spent a huge amount of time and expense doing press releases and interviews to promote the Guild. She also introduced us to potential clients and advised us how to follow up leads and market ourselves. It was a fantastic experience and my confidence rocketed.
To sum up, the Diploma course is of the very highest standard, the content and how Nat teaches it gives you the tools to genuinely be able to set up on your own. She is completely unselfish about sharing her knowledge, techniques, recommending clients to you and helping in any area in which you maybe struggling. I feel proud that I trained with her and would not hesitate recommending other people to do the same.
Helen Clarke (RGN), Three Counties Canine Massage, Worcestershire
Website: www.dog-massage.co.uk