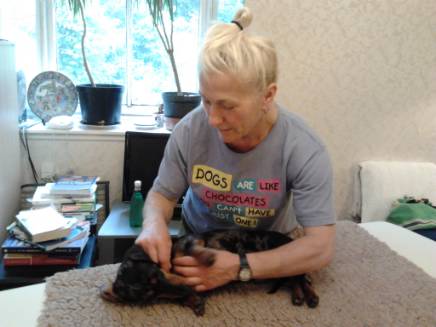 From the very first chat with Nat on the phone, I considered that this was to be the Canine Massage Diploma Course for me. I was looking for training that would stand me in good stead should I be living in the UK, or abroad.

I have spent the past lifetime studying what goes into my dogs, food, breeding lines, showing etc, trying to avoid the vet`s at all costs, and I was hungry to learn more about what actually is underneath the coat and skin and to be even more armed with knowledge so that I can make an informed choice when it comes to the Professionals.
It took me a couple of months to find the funds and get signed up, and then the first module came through the post….WELL….it was certainly a lot more then I had anticipated!
However, this did not deter me. To the contrary. I read it, and re-read it, and read it over again and `tooled up` with my brand new crisp books, and the computer on, I set to.
From the beginning, and having been a mature student at the beginning of the millennium, I knew the importance of reading the questions and answering all of the relevant points. And, the volume of the work-pack dictated to me the depth of the answers. What is also very important is that this is your work, and in order for it to be retained in the brain, it needs to be formatted in a way with which you, as a student, finds it comfortable, and I often included mirth.
The canine massage students forum was a useful tool, inasmuch as although you often feel you`re on your own, there are a heap of others out there in the UK, doing the same Diploma course with Natalie and feeling the same. But rest assured, The Mentor is but an email/phone call/text away so it was amazing to always have such a comprehensive level of support.
When it came the time for our practicals to begin I had no idea what would be happening (all the more reason to get on a workshop!).
The Practicals were every bit that – Practical……full on…..often fun…..and a lot of hard work.
It was time to put into practice all that I had been studying, and oh my, how the books and the hours spent on the computer came to life. Nat has a real way of being able to bring to life what can seem like dull humdrum Anatomy & Physiology. She gets in loads of different dogs, breeds and working disciplines for you to work with which could mean having 24 dogs visiting us over a weekend alone!
The most fascinating skill is when you are taught Advanced Palpation Skills; its very impressive when you see Nat go over a dog and be able to pick up things that X Rays and MRI scans aren't but the best thing is, she teaches you and all along is sharing with you her huge knowledge base of bodywork which in this day and age is a rarity! Learning how to adapt the new found palpation skills to suit smaller dogs, wriggly dogs, hairy dogs, hairless dogs; dogs with Orthopaedic conditions and Neurological conditions was fascinating and sets you up ready to start practicing at a high level. You also get taught Clinician Skills which includes being able to communicate not only with vets and other professionals but importantly to help the human client understand whats happening with their dog.
Nat doesn`t just teach and mentor you, she does everything she can to help you along to getting your client base started which is just above and beyond what I expected, I was able to help out on one of Nat's Scottish workshops with Agility Team Scotland, many of whom are now clients.
I traveled back and forth from Scotland to Worcestershire for my practicals and I'd do it all again. The course is in depth, full of practical skills and real knowledge to allow you to go and there and start practicing competently and safely. What else can I say apart from loved it!
Deely Cumming, Scotland Canine Massage Therapy
Website: www.scotlandcaninemassagetherapy.com