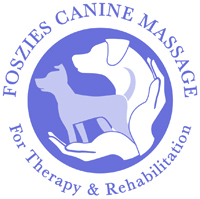 My first exposure to Natalie Lenton's teaching style was on one of her workshops " A Beginners Guide to Canine Massage" which I attended in 2009. I was very interested in pursuing a career in Canine Massage and started to research various courses. At the time Natalie was formulating the Canine Massage Therapy Centre Diploma, and after being so impressed with her professionalism, enthusiasm and obvious expertise in this field I decided to wait until details of her course were available before making a choice.
The comprehensive module content, practical training and assessment, plus externship and ongoing support with the Canine Massage Therapy Centre diploma finalised my decision and I started my training with Natalie in 2010.
The initial part of the course is home study modules and although you are doing this remotely Natalie is in constant contact, she introduces you to other members in your study group via the Canine Massage Therapy Centre Students forum and actively encourages everyone to use this medium to communicate as the course goes along. Full written feedback is given on each module as well as various telephone mentor sessions to see how things are progressing.
Natalie is a true ambassador for Canine Massage, and teaches the practical weekends with a passion that is infectious. Palpation skills are key and Natalie goes to great lengths to spend time with everyone individually getting hands on with dogs to perfect this advanced skill. You also comprehensively learn Swedish and Sports massage as well as the advanced techniques of myofascial release.
Throughout the practical sessions Natalie ensures that her students experience a huge variety of dogs ranging from disciplines such as agility, show, working, and obedience as well as those suffering from a wide spectrum of orthopaedic conditions.
During the externship whilst completing case studies, once again Natalie is always on hand to offer advice and guidance, and you never feel that you are out on your own. Part of the later practical weekends include case study sessions where everyone has the opportunity to recount and share their experiences.
Natalie's support and encouragement throughout the course was amazing, and her passion really is to see all her students succeed as canine masseuses and get out there helping as many dogs as possible. She has worked tirelessly to set up the Canine Massage Guild to ensure that as members her students are part of a respected network of professionals, inviting all the qualified practitioners to share in the launch at Crufts 2012 by being present on her stand. This has then been followed up with passing on contacts for clients which were made during the show, giving everyone a helping hand in getting their new businesses up and running.
This diploma is no easy ride, it requires dedication, commitment and a lot of hard work, but it is worth every minute. If you have an interest in Canine Massage and helping dogs with their quality of life then I cannot recommend this course enough. It has been a two year journey during which I have learnt an enormous amount, met some lovely people and made some great friends, as well as found a mentor who is passionate about continuing our development with future courses and seminars.
Thank you Natalie for writing and facilitating this diploma, you have given me the tools, experience and confidence to do a great job and help improve the lives of many dogs.
Debbie Waters, Foszies Canine Massage Therapy, Worcs
Website: www.fosziescaninemassage.co.uk