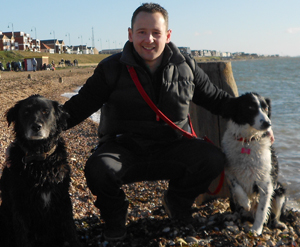 As a Professional Human Sports Therapist working with Elite Athletes I was looking for a course that could match what I had learned with Human Rehabilitation and I was not disappointed; the Canine Massage Therapy Centre is the only place you should bother looking if you want to train professionally to a high standard and have an actual business working professionally as a Professional Canine Masseuse.

As the owner of DKW Sports Therapy in Fareham Hampshire, I treat and rehabilitate musculoskeletal injuries on a day to day basis and work with clients of all ages and abilities, including world class performers. I felt it was time for a challenge so why not combine my passion for Professional Massage with Dogs?
I initially thought about Canine Massage Therapy after attending a local agility show with my two rescue dogs. After searching for local Canine Massage Therapists, and speaking to local vets and dog clubs it was clear there wasn't anyone in my local area offering this service which I knew was in demand.. I researched various courses and it was a no brainer that the Canine Massage Therapy Centre offered THE most comprehensive course hands down. Around the same time I then happened to see Natalie Lenton's TV interview with Claire Balding on Cruft's, which prompted me to make contact. After talking with Natalie and attending a one day workshop, I was delighted to be offered a place on her Practitioner Training Course.
Thankfully I found the Canine Massage Therapy Centre and I can honestly say it was the best thing I did.
Natalie presents an incredibly well-structured course that is fully supported throughout. The course is very very in depth covering 50 different techniques of massage across 4 Disciplines which really impressed me not to mention learning live anatomy and gait analysis (analysis of the dogs dynamic movement). We got the opportunity to work on lots of different visiting dogs throughout the practical sessions and we never ever had to 'share' a dog for learning. A guided study day at a retired greyhound kennels was a valuable experience. You are placed in a friendly, approachable, motivational learning environment which is also good fun and you are encouraged to work hard and be the best you can; Natalie has a way of teaching that makes learning addictive!
Darren Worsfold
Address: Hampshire
Website: www.dkwsportstherapy.co.uk & www.k9-massagetherapy.com