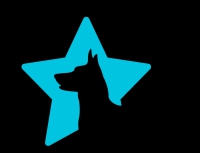 I chose to study with the canine massage therapy centre as the course seemed more rigorous and thorough than any of the other courses available and believe me, I did my research!

Having studied for two years I can say that it was the best choice I could have made, when I finished the course I felt as if I was prepared to treat dogs on my own feeling competent and confident and with an amazing understanding of anatomy, massage techniques across several styles and the awareness of when I needed to ask for further advice.
As teacher myself I can honestly say, Natalie is an excellent teacher who manages to both support and stretch you at the same time. I would recommend this course to anyone who wants to make a career change and work as a canine massage therapist.
Jenny Coates, Reading – DogStar Therapy
Website: www.dogstartherapy.co.uk