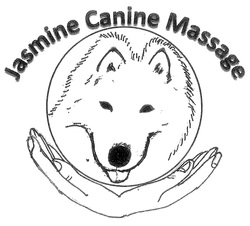 I first tried canine massage when I purchased the DVD "Canine Massage Therapy in 3 easy steps" from Natalie's stand at Crufts.
The result of following the massage routine with my own dog was far more impressive than I thought it would be.I soon recognised the potential of therapeutic massage for all dogs and discovered the 2 year Canine Massage Diploma run by Natalie on her website.
I had been trying to change to a veterinary career for a number of years but the right opportunity had not arisen because I was highly qualified and needed something specialised and challenging to provide the opportunity to either set up my own business or work for an employer. I have always enjoyed study and examinations and have a BSc (hons) in Ecology (including pure zoology and plant science) MSc degree and a Diploma in Veterinary Homeopathy so I was not daunted by the Diploma being set at degree standard.
I enrolled on the Diploma course in autumn 2012 after an interview with Natalie and immediately thought she was someone I could work with having similar views and ambitions. The course was so well planned starting with written modules that were structured, challenging and rewarding. I found myself engrossed with the study and it was hard to concentrate on my comparatively mundane day job!. The first 2 modules were particularly challenging, but this was the type of in depth study of canine anatomy to place you well ahead of any competitors.
The Practicals were the most enjoyable part of the course putting all the theory into practice and meeting some of the other students on the course. There was always a good sense of humour to diffuse the pressure!. I looked forward to every weekend because of the support and positive learning experience provided by Natalie and the teaching assistants. There were frequent visiting clients dogs allocated for each student and a guided study day at a greyhound rescue kennels to practice the 50 techniques of massage taught during the Practical sessions. The weekends were carefully structured to provide all the tools to develop the student into a competent canine massage therapist but provided the understanding that the skills would develop further after completing the course with hours of muscle palpation and massage experience.
The transition from being directly supervised with visiting clients during Practical weekends to the Externship and case studies was especially challenging but a necessary step to gain a reality check for communicating with clients and veterinary surgeons and tailoring the massage to the individual dog and their issues.
The Diploma has been a life changing experience for me and I am very grateful for the enthusiasm and support from Natalie, and the teaching assistants. I still continue in my job in the public sector but hope that I will soon progress to work full time with a successful business in therapeutic canine massage.
Joanne Weston, Nottingham. Jasmine Canine Massage
Website: www.jasminek9massage.weebly.com